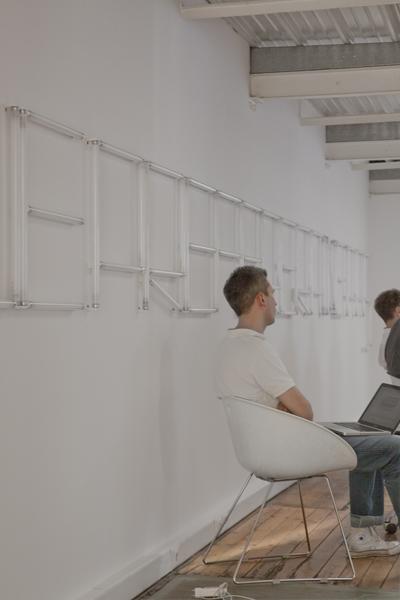 915 w - i will rather not to exhibition - ekito - toulouse - france

96 used fluorescent t8 tubes , screws, sockets / 740 x 60 cm
the piece uses the recurring phrase pronounced by a wall street clerk all the way through the herman melville's
bartleby
novel ( 1853 )
.
it was tranfromed from conditional to futur tense so from
i would prefer not to
to
i will prefer not to
( in french only one s differs )
.
the exhibition took place in downtown toulouse
ekito
's office during opening hours and while the employees were at work
.
the title refers the amount of unused watts as the piece was displayed unlit
.
it is still in place and hides its potential impact for the environnement that remains in the invisble mercury inside fluorescent tubes ( that are usually not often recycled )
.